How we can help you?
To know just submit your details and one of our Business Innovation Consultant will be in touch with you shortly.
Methodology
Our project delivery methodology is based on a proprietary Global Delivery Model (GDM) which NetEdge has developed based on its vast experience in delivering software development, deployment and support projects to its clients globally. This model divides projects into activities that can be executed independently and simultaneously at different locations. This enables us to maximize adherence to customer requirements through optimum use of resources and ensuring timely and within budget delivery.
As per the model, depending on the size and the requirements of a project the work is carried out by a distributed team which may be spread across three locations to optimally utilize the available resources. The three locations are:
On-Site – The team is located at client location and works from there
Off-Site – The team is located at NetEdge Office near to client location
Off-Shore – The team is located at our Offshore Delivery Centers in India. This team carries out majority of the work to ensure cost effectiveness.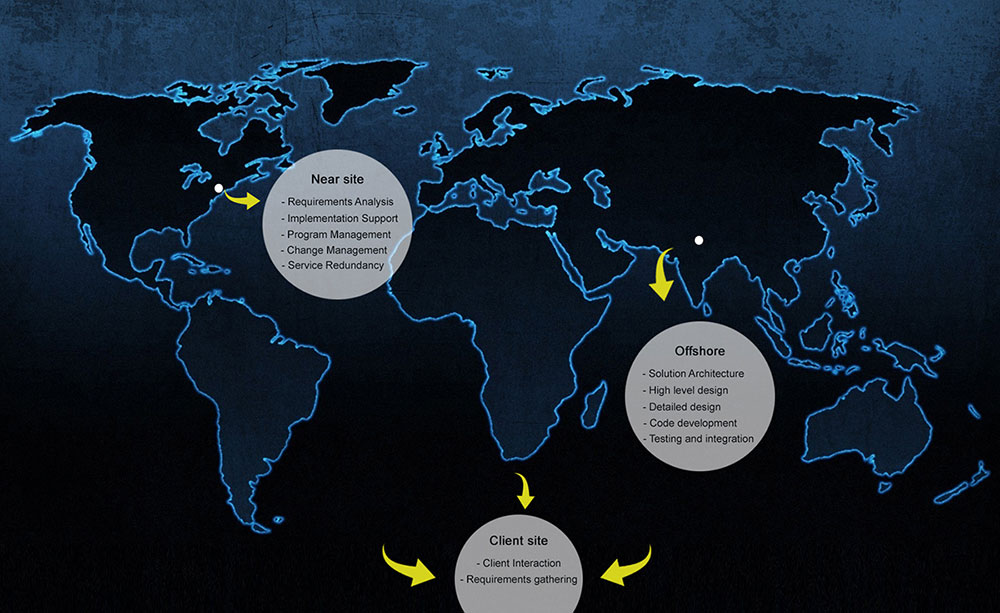 Refined for over two decades, the model ensures that the Project Manager is in total control, regardless of the physical location. Since NetEdge follows Agile Development Methodology, the Project Deliverables are distributed across the life of the project which reduces uncertainties, thereby enabling our customers to reap business gains even before the project is completed.
Development Methodology
We have developed a robust agile methodology that allows us to get projects off the ground swiftly and then proceed on a predictable, low risk path for high quality results. This methodology uses our rich portfolio of reusable components and our distributed development model to offer cost and time benefits to our customers.
The process followed by distributed team for a typical project consists of following stages:
Freezing of Scope of the Project
Identification of Key Personnel for the Project
Knowledge Acquisition which may be Onsite or Offshore
Establishing required Infrastructure at Global Delivery Center
Offshore and Onsite (if required) Team formation
Project Kick-off Meeting
Development Scrum Cycle Starts
Prototype Developed and refined during each Scrum
Testing of Deliverables before Deployment on Client Infrastructure
Repeat Steps 7 – 9 till Project is Completed
Documentation and Implementation at Customer location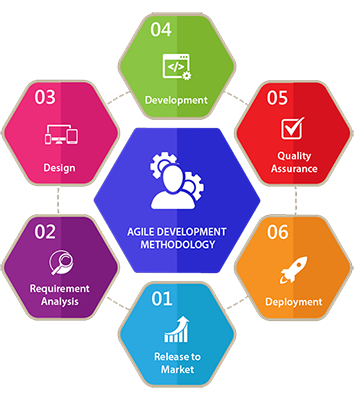 Quality Assurance
NetEdge recognizes the importance of quality in meeting customer requirements and has instituted stringent quality assurance and control measures. This has contributed significantly to our performance and growth. The quality assurance is reflected in all processes and activities of design, development, implementation and project management.
Quality Processes and Systems are available to all employees over NetEdge Intranet. These processes have been refined over several years and have facilitated the creation of a process-oriented mindset for NetEdge employees. This enables us to work closely with the customers to identify their exact needs and then develop tailored services and solutions to ensure quality for every deliverable.
Our endeavor is to make significant impact on Quality of life by using latest and emerging information technologies, tools and techniques in the most cost effective manner.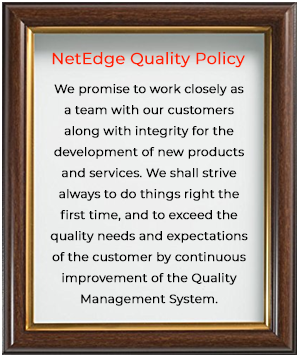 NetEdge at A Glance
0
COMPLETED PROJECTS
spread across the globe.
0
YEARS OF EXPERIENCE
across number of industries.
0
AWARD WINNINGS
on various competitions.
0
SATISFIED CUSTOMERS
around the world.
Testimonials

Michael
CEO
EarthLink, Canada
"So far, one of the best providers when it comes to SEO and Traffic Improvement. We will continue to work with NetEdge. Great Team!"

Diamond Duck
President & Chief Executive Officer
Diamond Duck
"Their lessons on Google Analytics and PPC is very good. Everyone that uses either should consider taking them."

Testimonial 4
President & Chief Executive Officer
Diamond Duck
"Their lessons on Google Analytics and PPC is very good. Everyone that uses either should consider taking them."